Yoga for Stress Relief
Introductory course starting 24th of Jan 2019
This introducory course is suitable for absolute beginners as well as for people with some experience in Yoga. The basics of the asana training, an introduction into pranayama and a thorough led through relaxation will be communicated in this course.

Language in the course will be English and German.

course starts: Thursday, 24.01.2019 at 5:00 - 7:30 pm
follow ups: 31.01., 07.02., 14.02., 21.02., 28.02., 07.03., 14.03., 21.03. und 28.03. 2019

Fee: 140,- €
This course will be subsidised by a number of health insurance companies.
Kurs-ID: 20170222-898335

Please book early via this side wih me. Number of participants is limited.
Yogaday
Yoga practice day on Sunday 10.03. 2019
Schwerpunkt des Tages:
Gestützte und aktive Rückbeugen als Brust- und Schulteröffner

Vorbereitungen, Übungen und klassische Asanas mit und ohne Hilfsmittel.
Dazu zählen das Liegen auf einer gerollten Matte genauso wie die 'Heuschrecke' (Salabhasana) und die 'Brücke' (Urdhva Dhanurasana).

Der Schwerpunkt macht nur einen Teil des Tages aus, alle Teilnehmenden werden behutsam je nach körperlicher Verfassung an die Übungen herangeführt.

Entspannung in der Anspannung; wie gelingt es, in einem Asana einen ruhigen, gleichmäßigen und tiefen Atem zu entwickeln? Wie gelingt es in der Anspannung zu entspannen?

Der Tag ist auch für Interessierte ohne Vorkenntnisse geeignet.
Ein kleiner Imbiss sowie Getränke werden gestellt

Anmeldung bitte bis spätestens 08.03. 2019

Beginn: 10.00 Uhr
Dauer: ca. 6 Std.

Kosten: 52,- €/ 44,- € (ermäßigt) bitte nachfragen.

weitere Termine:
Sonntag, den 12.05., 30.06., 25.08., 20.10. und 15.12. 2019
open yoga classes
No previous experience required.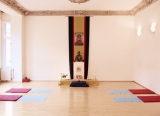 Gemeinsame Termine für Anfänger und Geübte.

Bitte vor dem ersten Besuch telefonisch anmelden unter:
0163 98 95 370. Vielen Dank.